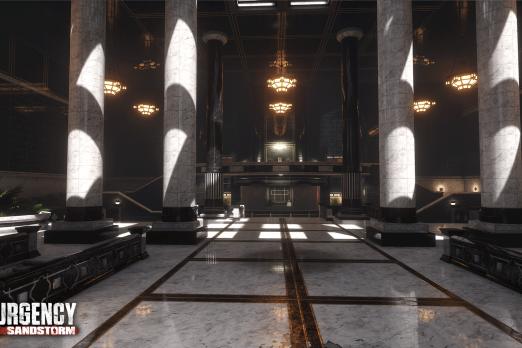 Insurgency: Sandstorm update 1.3 is officially live. The update includes a remake of the Insurgency Ministry map, along with new weapons and new weapon upgrades. There is even a new mode called Frenzy.
Players are sure to love the reworked Ministry map, which features extremely close quarters fighting on the inside of a besieged ministry building. The narrow corridors, vast marbled lobby, and even crowded underground parking garage are guaranteed to give unique strategy and gameplay options. The map is playable in Skirmish, Firefight, Checkpoint, Hardcore Checkpoint, Frenzy Checkpoint and Team Deathmatch game modes.
Insurgency: Sandstorm Remade Ministry Map Photo: New World Interactive
For the new game mode, there were some doubts if Frenzy was real considering it was announced right around April Fool's Day. Turns out that the joke was that Frenzy wasn't a joke. This new Checkpoint-based mode comes with zombie-inspired enemies that not only run fast, but can attack with melee or with Molotov's. Players also get to experience special enemies like the Flamers that explode into flames, the Jumpers that can teleport, or the Bruisers that come with extra armor and can withstand a large amount of damage. Frenzy is playable on all maps, including Ministry.
Insurgency: Sandstorm Frenzy Mode Photo: New World Interactive
Other changes include:
XP can now be earned on community servers

Community server admins now have the ability to allow players to gain XP and earn cosmetic unlocks as they would in official matchmaking. This provides more incentive for players to play on community dedicated servers rather than our official matchmaking servers.
Modded servers or servers with any custom rules are also permitted provided they do not unfairly accelerate XP gain.

New Weapons

Chinese QBZ-03 assault rifle
Croatian VHS-2 assault rifle

New Optics

1x MRO "Micro Red Dot" for Security faction
1x MARS for the Insurgent faction

New Video Settings

Added a resolution scale slider allowing for undersampling and supersampling with a range from 0% to 200%. Scaling to under 100% will increase performance by running at a lower resolution, whereas over 100% will render at a higher resolution.
Added Hierarchical LOD Transition Method option to the Advanced video options menu with a "Field Of View" option which improves the quality of further away structures in the world when zooming in on them. This option comes with a performance cost, so it is recommended to first try "Fixed Distance" for better performance.
Added a View Distance Quality setting to the settings menu under Video.
New update announcement popup on the main menu allowing us to share important details about new updates with users directly in the game.
A complete list of the changes in update 1.3 can be viewed here.
Aside from the new update, players who are interested in trying out the game can do so for free this weekend. Insurgency: Sandstorm is included in the Steam Free Weekend, which starts June 20 and ends June 24.